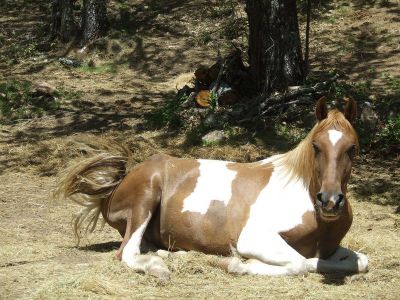 Flecha tenia 3 años cuando fue rescatado en Octubre 2012 de maltrato, malnutricion, encerrado sin comida. Se recupero..es listo, lider de la manada,cariñoso, expresivo, noble...un caballo muy especial. Fue el primer caballo que rescatamos en un estado realmente peligroso de salud.
Arrow, 3 years old when rescued by us in Oct. 2012 from neglect, malnutricion, closed in a small corral with no food, found in a terrible condition. He recovered well, and with a fantastic attitude. He is clever, leader of the herd, kind, expressive, friendly....also our first rescue case in a serious life threatening condition.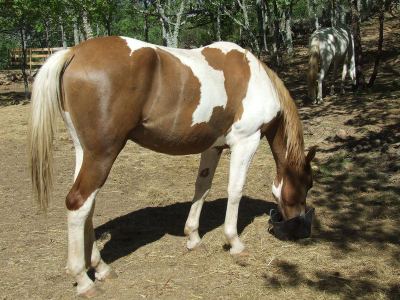 Padrinos/as - Sponsors de Flecha:
Matt Haswell. London, UK.
Alai Muñoz Estriegana. Gredos.

Pablo Venero Anguita. Badajoz

​Siena. Madrid

​MarieJose & familia. Cuenca

Iain Webster. Scotland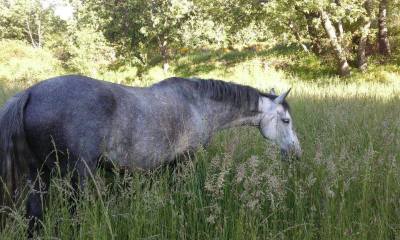 Luna llego en Febrero de 2016. Tenia 7 años. Su dueño anterior lo cedo a nosotros por no poder seguir con ella y sabia que aqui tendra un buen hogar siempre. Es una yegua generosa, dulce, tranquila y muy confiada con las personas.
Luna arrived in February 2016. She was 7 years old. Her previous owner handed her over to us as he could no longer keep her and didnt have other options. She is a generous, sweet, sensible and quiet mare who trusts alot in people.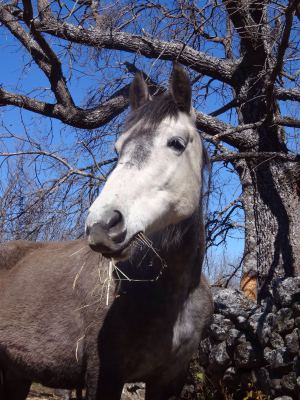 Padrinos/as - Sponsors de Luna:

Leo Jimenez Alarcon. Madrid
Nieves Venero Anguita. Badajoz

Marga & Claudia. San Lorenzo

Angel & Sonia. Madrid

Brave

Brave le recatamos en Enero 2017 junto con Azar. Tenia 2 años y llevaba mucho tiempo en una perrera municipal en Madrid, despues de estar encontrado en condiciones muy malas. Es listo, encantador, valiente y con mucho energia.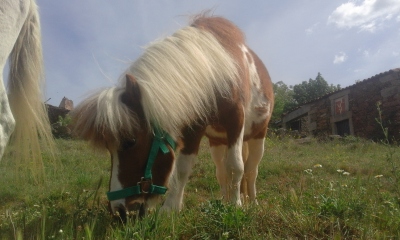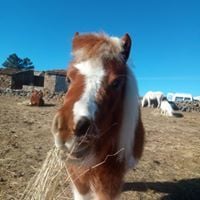 Brave was rescued in January 2017 alongside Azar. He was only 2 years old and had been in the government dog pound for a long time, after being taken in from terrible conditions. He is intelligent, friendly, brave and lively.

Padrinos/as - Sponsors de Brave:

Manuel Torres Meson. Madrid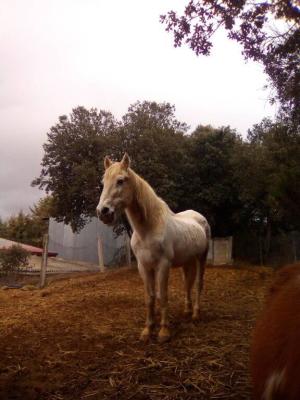 Azar

Azar fue rescatado y traido desde un barrio de Madrid junto con Brave. Abandonado y sin cuidar ya en manos de tratantes. Tiene mas que 25 años y se nota que ha llevado una vida dura y llena de desgustos. Necesita un cuidado especial. Es noble, listo, cariñoso y amable. Le merece ahora una vida tranquilo, seguro y en paz.
Azar we rescued and brought from Madrid alongside Brave. He was abandoned and neglected. He is very
old and shows signs of having had a very hard life. He requires special attention and care. He is quiet, clever, gentle and sweet. He deserves to spend his retirement here in peace and security.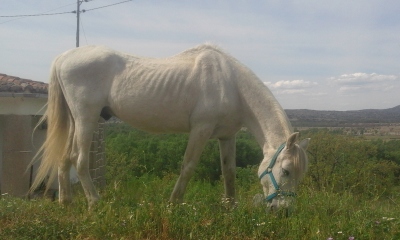 Padrinos/as - sponsors de Azar:

Jordi Pascual Fortuny. Madrid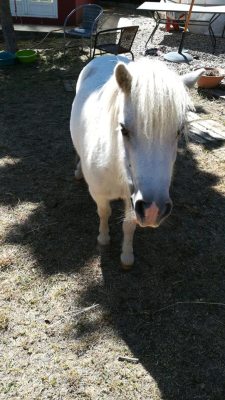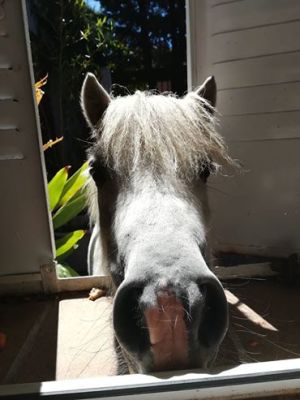 Skye

Skye llego a la protectora los finales de verano de 2017, rescatado por una mujer llamada Beatriz. Maltratada y lesionada. Tenia 5 años, es curiosa, determinada,traviesa y encantadora!
Skye arrived at the end of summer 2017 thanks to a woman who lived nearby and managed to rescue her from a local dealer. Badly treated and injured. She was 5 years old, and is curious, bossy and lovely!

Padrinos/madrinas de Skye:

Beatriz. Avila

Sonia & Ana. Madrid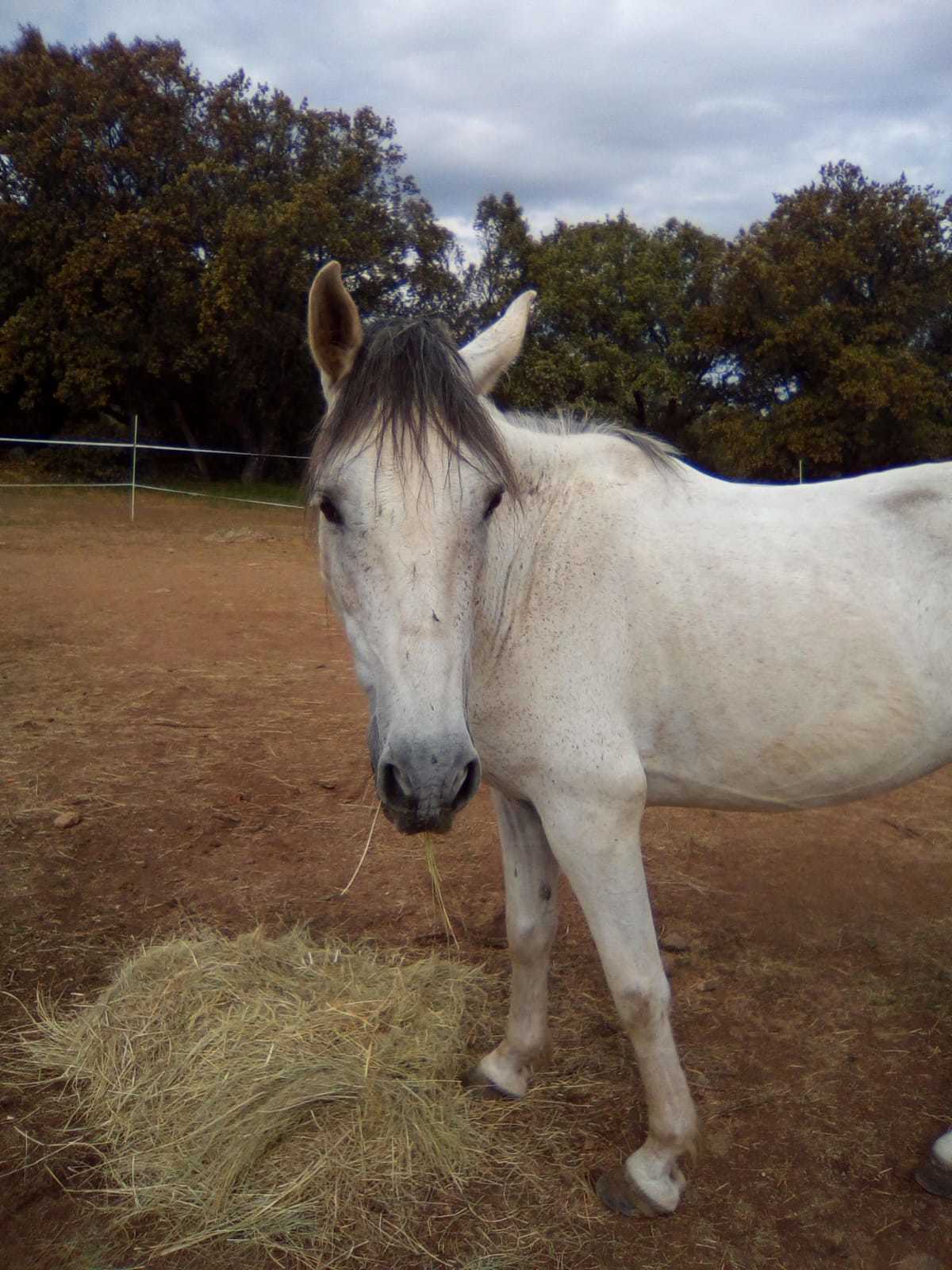 Koala fue rescatado con 9 años desde Madrid en Avril 2018, donde tuvo un accidente de trafico de autopista donde tristamente murio el poni quien iba junto a el. La policia le trajeron a la perrera municipal y nosotros le sacamos de ahi. Se nota que ha tenido una vida dura..Esta ajustando a su nueva vida en el campo y haciendo amigos. Es carinoso, dulce y inteligente aunque con cosas de su pasado que han quedado con el, a la hora de manejarle y estar con el.

Koala was rescued  aged 9, via the police, he was found wandering the motorway and was involved in a car accident, his companion who was a pony died in the crash, he survived. He is enjoying his new life in the countryside and making new friends gradually.. he is a  sweet, friendly and clever boy, although has some handling issues from his past mistreatment.

​Diana, Marcos & familia. Madrid

​Gema & Teresa. San Lorenzo de Tormes

Estos dos potros fueron encontrados en un pueblo de Avila, parece ser que bajaron de la sierra donde fueron abandonados o quizas naciron ahi de yeguas abandonadas. No tenian chip y estaban salvajes (cerriles). El alcalde del ayuntamiento del pueblo donde los capturaron querian darlos una salida diferente de lo normal cual sera salir a subasta y estar llevados al matadero, y gracias a eso los pudimos recoger, para empezar su nueva vida con seguridad, cuidados y respeto como se merecen todos los animales. Estan inseperables, son muy jovenes y llegaron en un estado lamentable de salud fisica y mental, el trato con caballos cerriles es un tema muy delicado..estan mejor de salud, quitando miedos, confiando en las personas cad vez mas y haciendo amigos.
These babies were captured off the mountain by the local council, they had no owner so legally should be sent to auction where they usually go straight to slaughter. A kind mayor found a way to bring them to us. They are very close and arrived in a bad state. Learning to trust people and living a safe and quiet life here with us.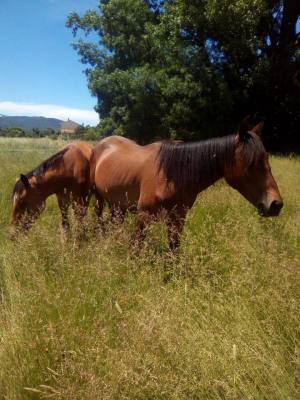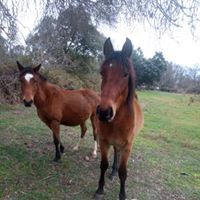 Padrinos/as de Joey:

Pura y familia, Madrid. (protectora de animales ACUNR)

MariaJose & familia. Cuenca
Padrinos/as de Sabba:

Pura y familia, Madrid. (protectora de animales ACUNR)
​Norte le rescatamos porque la mujer quien lo tenia nos dijo que no podia seguir cuidandole por razones economicos...el es mayor y con necesidades especiales de alimentacion ..y ya le iba a "quitar".. Tiene 25 años y fue un caballo arabe de raid con su origin en el Norte de España. Esta en buenas condiciones por su edad y aqui se quedare para el resto de sus dias. Lleva con nosotros desde Septiembre2018.
​Norte is a 25 year old arab, thought to have competed in raid for many years in the north of Spain. He ended  up in hands of a lady who claimed she could no longer care for him due to economic reasons and said she would have to get rid of any old way...so here he is. He is in good shape for his age and considering he is missing several back teeth so has to have a special soft diet. He has been with us since September 2018.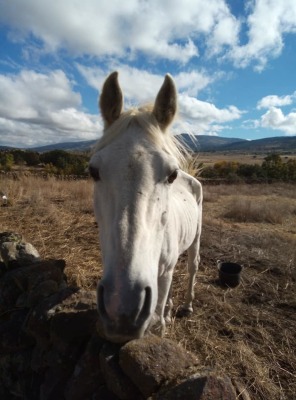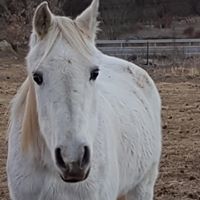 ​Beatrix Escobar. Madrid. (Protectora de animales DonaloAnimales)

​Calma fue rescatada en otoño 2018, un caso urgente destinado al matadero o a morir y con una lesion grave en la mano derecho. Un trabajo en proceso con el ojectivo de darla una vida digna sin dolor fuerte. Es una yegua fuerte, tranquila y noble.
​Calma was un urgent rescue case of autumn 2018, with a major injury to her right front foot, untreated and destined for slaughter. We are treating her problem and giving her a forever home as long as that is.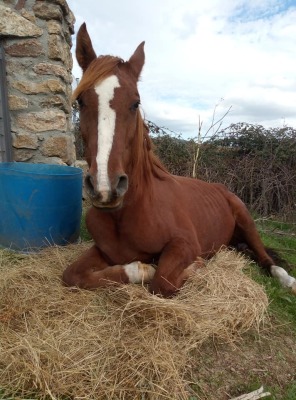 Padrinos/as de Calma:

Montse. Madrid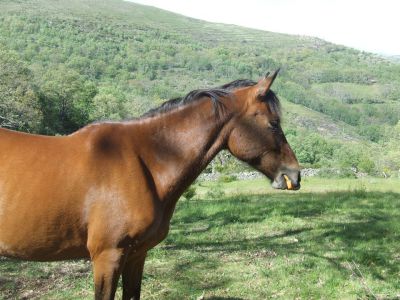 Ireland 

Ireland fue comprada a tratantes al final del 2012, estaba atada de un pie con una cuerda 24 horas al dia. Es una yegua muy buena y amable.  Adoptado junto con Mora en Noviembre 2016, pero devuelto en Febrero 2019, y aqui se quedare ya para siempre con su manada.

Ireland was bought by us from local dealers at the end of 2012. We saw her tied by a rope round her leg 24 hours a day. She is a lovely little mare who was adopted alongside Mora in November 2016, unfortunately to be sent back in February of 2019. She will  hopefully be able spend the rest of her life here with her herd now.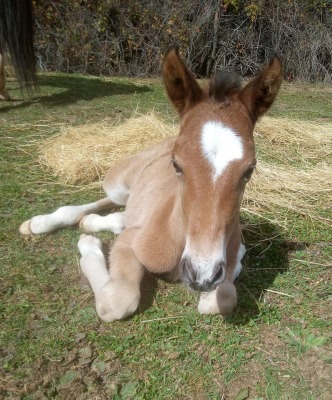 ​
Flapjack .. (Alegoria/Lolo)
Hijo de Sabba y Joey, nacio el 18 Febrero 2019. Sabba cuando la rescatamos ya estaba embarazada. Flapjack pasara su vida junto a sus padres y el resto de la manada! Algo que casi nunca pasa entre caballos domesticados, familia y manada todo una vida.
Flapjack is the son of Joey and Sabba, who turned out to be pregnant when we rescued her. He was born on the 18th Feb 2019. We hope this family can stay together for the rest of their lives along with the rest of the herd.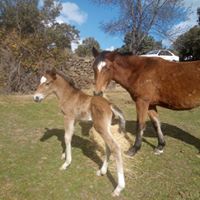 Sally Howell. London

Sandra. San Lorenzo de Tormes

Los que se fueron...

Black Bess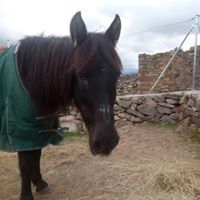 BlackBess fue comprada a tratantes en febrero 2019, una yegua mayor ya abandonada por sus antiguos duenos. Estaba poco tiempo aqui con nosotros, apenas 3 semanas. Tenia lesion neurologico y no habia solucion, la tuvimos que dormir y terminar su sufrimiento. Una victima mas del maltrato y neglicencia, quien vino a terminar su vida aqui en la protectora. 
Bought from local gypsies, an old neglected and mistreated beautiful little mare. She was with us for not long, we had to put her down due to a severe neurological problem.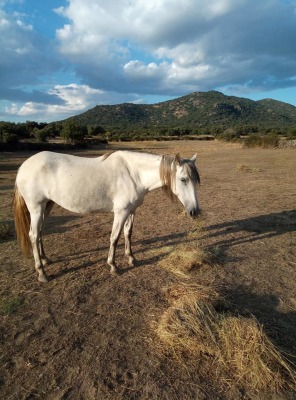 Oliva llego con 4 anos, junto a su hermano Choco en verano 2017. Ella es una yegua Española pura raza. Su dueño lo cedo a la asociacion por no poder seguir con ellos, y por no venderlos por miedo a donde podran terminar. Ella es dulce, curiosa y tranquila.
​HA SIDO ADOPTADA JUNTO A SU HERMANO CHOCO EN OCTUBRE 2018 , POR UNA PAREJA PERFECTA PARA ELLOS...AHORA VIVEN POR LA ZONA DE CACERES. 
Oliva was handed over to the association alongside her brother Choco. She is a pure Andalucian mare, 4 years old when she arrived. Their previous owner could no longer keep them and didnt want to sell them on for fear of where they may end up. She is a sweet calm and curious mare.

SHE WAS ADOPTED IN OCT.2018 TOGETHER WITH HER BROTHER BY A LOVELY YOUNG COUPLE, AND  THEY NOW LIVE IN THE PROVINCE OF CACERES WITH THEM.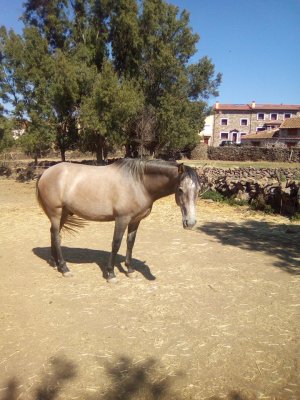 Choco

Choco el hermano de Oliva, llego con ella en verano 2017, tenia 5 años. Es un caballo super listo, con mucha energia,guapo y dominante.
​
HA SIDO ADOPTADA JUNTO A SU HERMANA OLIVA EN OCTUBRE 2018 , POR UNA PAREJA PERFECTA PARA ELLOS...AHORA VIVEN POR LA ZONA DE CACERES. 
Choco is Olivas half brother. He was 5 years old when he arrived. A clever, energetic, handsome and dominant horse.

HE WAS ADOPTED IN OCT.2018 TOGETHER WITH HIS SISTER BY A LOVELY YOUNG COUPLE, AND  THEY NOW LIVE IN THE PROVINCE OF CACERES WITH THEM.

Sonic 

Sonic fue el primer potro rescatado en el año 2009, el tenia pocas meses de vida. Fue regalado por un ganadero, no sabemos que habra sido de el si no le hubiesemos adoptado. Dijeron que su madre habia muerto y ademas que el no tenia cola porque se le habia comido un zorro. Estaba malnutrido, asustado y muy pequeño. Ahora esta fuerte, confiado, super simpactico y encantador con los niños!
Ha sido adoptado por Martina y su familia en Deciembre 2016 y vive en la zona.
Sonic was the first foal we rescued in 2009, he was just a few months old. He was given to us by a cow farmer, we were told that his mother had died and that he didnt have a tail because it had been eaten by foxes..he was skinny,scared and very weak. Now he is strong, trusting, very friendly and adores children!

Sonic has been adopted by Martina and her family in December 2016 and lives nearby.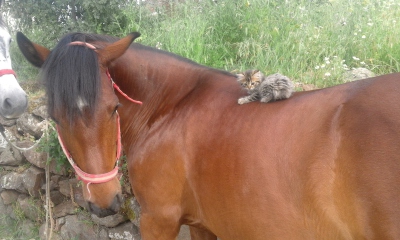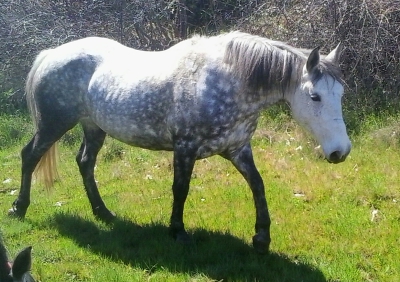 No deseada y con posible

destino al matadero. Fue adoptada en 2016 por una parejita en la zona.
Unwanted and destined for slaughter we took her in. She was adopted in 2016 by a young couple who live in the area.

​